We are all about caring for your precious locks in the most loving way. Each brush stroke will gently glide through your hair leaving it irresistibly smooth and shiny. Look no further, you found the one.
the science behind our hairbrushes
Engineered to perfection, our salon approved hairbrushes gently glide through your hair without pulling, breaking or snagging. We do not use ball tips that often get stuck and pull out strands. Instead we combined premium boar bristle and flexible nylon to smooth and gently detangle your hair.
Boar Bristles  carry Sebum - the yummy oil produced by your scalp that naturally conditions your hair. This natural oil is the best anti-frizz serum, making your hair softer, shinier and healthier looking. 
Nylon Bristles are carefully crafted to gently glide through your hair and provide an irresistible scalp massage, resulting in faster hair growth. No more painful detangling. And YES to making each day a great hair day!
Salon approved
We are proud to say that professional hair stylists and salons have been recommending our hairbrushes to clients for years now! It's time to start caring for your hair like a professional would. Your smooth and shiny hair is just one click away.
Try it here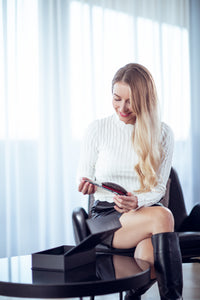 New Salon packaging is finally here!
We are so excited to announce the arrival of our new and luxurious salon packaging. Now you can gift a MIŠEL hairbrush along with a brush cleaner in a beautiful gift box to the ones you love and most importantly to YOURSELF!
Gift one here